Updated 7 Jan 2023
Do you have money sitting in your business account? Would you like to invest your company's leftover cash?
I have many friends who own small limited companies or are self-employed. The pattern usually goes like this: The business is profitable and starts generating some cash.  The business owner takes income plus dividends up to a point that is tax-efficient, usually around £50,000.
People cannot use the business cash remains without paying a huge tax bill and cannot expense it either because business expenses is a sensitive area only used for business purposes. As a result, the company profits stack up and a large amount of cash is sitting "locked in" in the business account.
I was in the same boat and I knew I was missing out. If you have a look at the UK inflation data (2.9% at the point of writing), cash is losing its purchasing power. In plain English, your cash can buy less stuff than today in a few years time.
My £10,000 will be worth £7,500 in 10 years time. So doing nothing was really not an option! Similarly, £100,000 will be worth £75,000. A £25,000 loss!
Having asked around in the community, it looks like people either do nothing or just take a big tax hit by withdrawing their profits. After researching all the options, it looks like there is a better way. In other words, investing through a limited company and not taking the money out until really needed. But, what's better?
Take the money out and then invest or invest through a limited company?
In both cases, taking the first £50k or so almost tax-free makes sense. But what about the cash surplus?
Obviously, if you need the money for personal reasons (e.g. buy a house) there is no question. You just need to take everything out and take the tax hit upfront.
But for those (including myself) who want to put the money to work for them let's dive into the math and decide.
To take the money out we would have to pay 32.5% dividend tax upfront. That's a lot, but our money would then grow tax-free thanks to ISAs and other allowances. This is not always the case but let's assume you and your partner have a £50k tax-free allowance.
Copy my online Excel document (File -> Make a copy) and play with the numbers. As you can see, not paying the tax upfront gives us a nice £252,000 advantage compared to tax-free personal investments, even after paying the corporation tax on the profits.
At the end of the 10 year period, we can either take everything out of the company or we can simply withdraw as much as we need and pay much lower taxes.
You wouldn't want to pay £289,900 (32.5%) dividend tax to take £892,000 out, so why do it incrementally over 10 years? The numbers stack up.
It looks like keeping the money in the company and accessing it only when needed is a much more profitable strategy. Even more importantly, if you stop working at some point and achieve financial independence. Isn't this everyone's goal…?
How to Invest your Company Money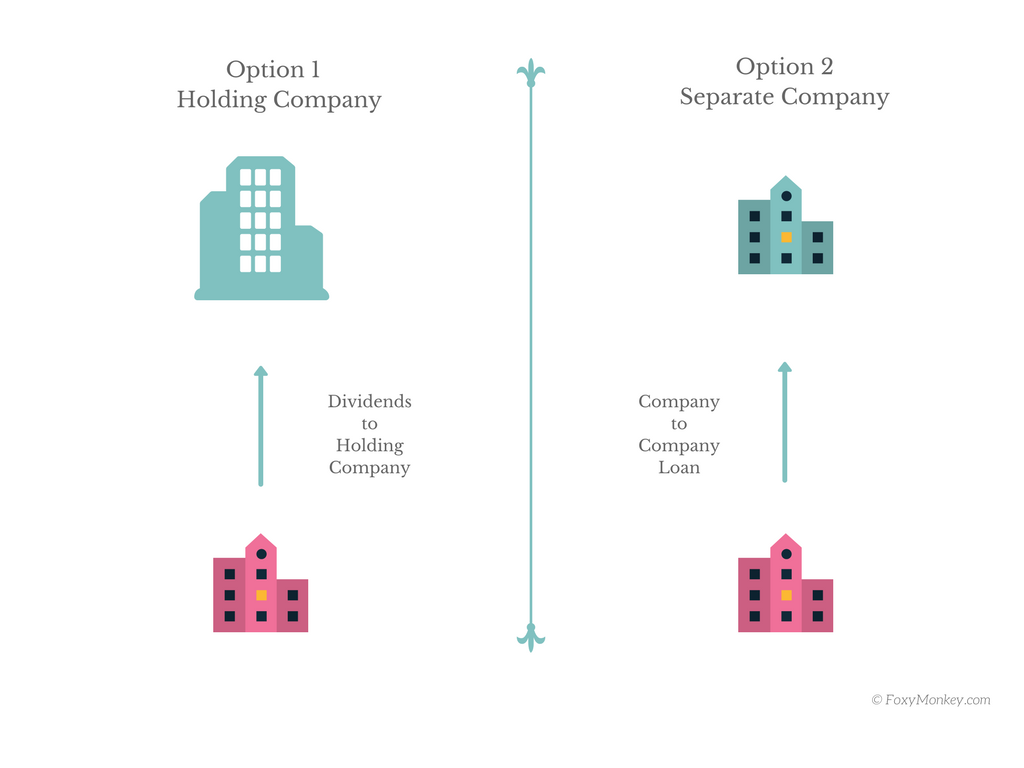 There are two ways that you can invest via a limited company. Let's say you are an IT consultant operating via your limited company: "Tech Guru Ltd".
Option 1: A holding company (ie "Tech Guru Holdings") owns your "Tech Guru Ltd" trading company and receives the cash surplus as dividends.
Option 2: You open a totally separate company and receive the money as a loan from "Tech Guru Ltd".
The option depends on your time horizon and your goals. Generally speaking, having 2 companies as separate entities is a quicker, more short-term structure and easier to set up.
I, therefore, chose option 2 and decided I'm going for a commercial-rate loan in a timescale to be agreed. I documented the loan agreement in a signed letter from the trading to the investment company and I make regular bank transfers while keeping track of the money flow. There is no obligation to pay back the loan and I'm the sole director of both companies.
You may want to make it more formal by having the borrower pay a small interest to the lender.
If you invest via another limited company the trading company has better chances of qualifying for Entrepreneur's Relief as long as the loan is repaid in full.
Entrepreneur's relief means that in case you want to close down or sell your business you'll only pay 10% capital gains tax on the gains. See also – Can I claim Entrepreneur's Relief if my Company Invests?
Why not invest the money from your trading company directly?
Three reasons.
The trading company should not get caught up in 'non-core' activities. There is a risk of your trading company being classified as a close investment holding company which has tax implications. Your trading company should trade only in its relevant sector. In our case, "Tech Guru Ltd" can build websites, provide hosting, etc but should not start buying buy-to-let flats.
Legal separation: If there's trouble in one company, your other company will not be affected in legal terms.
Easier for tax purposes: The investment company will not have any payroll, VAT obligations etc.
In both cases, you need to open a new company. That's actually quite easy and the Gov.uk website does a great job at explaining the process.
I opened mine online which costs £13 and only spent 30 minutes because I wanted to be super careful. You need to appoint a director (yourself), have a registered UK address and allocate one £1 share to yourself.
Note that you will need to provide a list of SIC codes, which technically defines the nature of your business. There are no fixed rules for what your SIC codes should be. Just focus on finding the SIC code(s) that best describes your investment activities.
Because I invest in shares and bonds, and I may invest in property too, I selected the following SIC codes:
64991 – Security dealing on own account
68100 – Buying and selling of own real estate
It's better to set up a special property vehicle (SPV) if you want to invest in property. This is essentially another company that only invests in property. This way it's easier for the underwriter to give you a buy-to-let company mortgage.
Sign-up to my Company Investing Course
I will teach you how to go from zero to having a limited company that generates passive income if you give me 2 hours per week.
In a series of online videos and live Q&As, you will learn about the right tax structure, how to choose and sign up for an LTD company brokerage account, stocks, property investing, crypto, choosing the right accountant, pension vs LTD investment company and other useful topics.
You will also be part of an online community of likeminded individuals who successfully invest their business profits.
Can you invest business profits to avoid taxes?
People think that by investing the business profits you can save on taxes. Well, not so fast. The trading company must still pay the corporation tax each tax year. In other words, investing does not reduce the corporation tax bill from trading activities.
However, the main benefit is that the directors make a big saving on the income tax. That's because the money does not yet leave the company which would otherwise trigger extra income tax.
Let's not also forget that investing might bring profits and these are taxable as well. However, that's only if those gains are realised. In other words, in the stocks & shares world, if you "buy and hold" a fund but never sell, you don't have to pay anything even if the fund price keeps increasing every year. You only make a gain when you sell at a profit.
Dividends received at the company level are exempt from corporation tax (HMRC link). That's as long as the location of the fund/shares is in the UK or in one of this long country list. This is great and an added benefit! The reason behind this is that dividends have already been taxed at the company which distributes them.
Non-dividend income, rent from property, for example, is subject to corporation tax the year it's received.
Disclaimer: This is not tax advice. Ask for tax advice before you proceed!
What should I do with business profits?
The answer is simple: Invest in income-producing assets like stocks, property and bonds. Consider re-investing some profits into your business too if possible.
That's a complicated topic because different people have different tolerance to risk, different goals and taste.
Have a look at my investing category for inspiration. A great book on the subject is called Smarter Investing by Tim Hale. It's probably the only book you need to read to start investing wisely.
My personal preference is broad low-cost index funds. By owning the whole market you avoid sudden shocks of one or two stocks dropping in value and wiping out our profits. Not to mention I don't have the skills to research a company better than the quant experts employed at the Wall St.
So by owning everything, I capture the whole market return and spread my risks across different companies and countries.
Stock market Index funds
My favourite investment provider is Vanguard who set the foundation of the passive investment industry. They have products that allow you to own a small percentage of every company in the world, thus owning the whole market.
Vanguard Lifestrategy 60% equities, 40% bonds is a global balanced portfolio with a very low fee of 0.22%. You can invest with Vanguard directly but the minimum investment is £100,000.
My investing experience with Vanguard has been very smooth so far and the customer service is excellent. To open an account, you need to fill out a form. Then you can start investing right away.
If you feel more adventurous and want higher returns, just tilt the equity part of the portfolio and go for 80% stocks. If you want a smoother journey instead, go for 60% or even 80% bonds.
The only drawback is that Vanguard don't offer an online platform to buy, sell and view your investments online. Although in the beginning, it was frustrating, I now find it positive as it keeps me from checking my accounts every day and make bad investment decisions based on what the news said today.
Note: If you want to invest directly with Vanguard, call them on 0800 408 2065. The UK-focused vanguardinvestor.co.uk website doesn't advertise business accounts just yet.
Alternatively, you can go via a broker and pay a platform fee for using them.
UPDATE 2020: Interactive Brokers offer a corporate account. It costs nothing to open and they recently removed their monthly inactivity fee. Interactive Brokers don't have the £100,000 minimum requirement Vanguard has.
Read how to open a limited company investment account with Interactive Brokers.
Property
Your company can invest in a buy-to-let property. Bricks and mortar is another classic way to invest here in the UK.
A company can purchase flats and houses for investment purposes and rent them out. Interest rates are usually higher for limited companies compared to personal mortgages and lending criteria are tighter.
But if you can find good opportunities then it's worth looking into property investment. Check out the Rob & Rob property podcast if you want a good resource.
Although I'm not investing in traditional buy-to-let directly, I am investing in property via Property Partner.
I think Property Partner strikes a nice balance between stock-like REITs and traditional Buy to Let. REITs provide exposure to property but exhibit stock-like behaviour. So when the stock market falls, the correlation is very high.
Buy-to-let, on the other hand, provides some very nice rewards in terms of returns. However, it involves a lot of hassle to find a good deal, requires a high initial capital and it's highly illiquid. The other disadvantage I see is that you cannot diversify and spread the risk in 5 cities unless you have a very high initial capital.
Property Partner is a platform I'm investing through that allows you to own part of a property, collect the rent and have it professionally managed. I like the idea, it's been running since 2013 and it's easy to register as a limited company.
So far, the returns have been 5.2% a year.
And here's my experiment investing £50,000 over the next 5 years (starting 2018). I also met the team and started building a trust relationship.
A little hack: Since I'm investing in Property Partner as a limited company, the rent I receive in the form of dividends is tax-free! That's because dividends received in an investment company are not taxed again. They have already been taxed at source.
Peer to Peer Lending
An LTD company can invest in peer-to-peer loans. They offer lucrative returns for lending cash to other people and businesses. I've written a Zopa review for investors you may want to read.
TL;DR: Returns of around 5%, hands-off automatic investment, loan length of up to 5 years.
The sign-up process is pretty straightforward as they need your business details, the director details and your money. As always, do your own research.
Have you forgotten the pension?
If you don't pay yourself a pension then it's definitely worth considering this option. Your company should pay a pension into a SIPP pot that grows tax-free.
The best part is that the money going into the pension is not taxed by corporation tax. It's a win-win situation for both the company and yourself and a great way to secure your financial future.
You need to find the right balance between pension contributions and LTD company investments though. That's in order to maximise tax breaks while ensuring you can access some of your money before the pension age.
How to find a good accountant for Limited Company Investing
I had trouble finding a good accountant that can implement one of these strategies and answer my questions.
The truth is that not many people invest (outside their pensions) and even fewer have their company money working for them. This is why there is less demand for accountants who manage company investments.
If you just want an accountant, please send me an e-mail at "michael at foxymonkey dot com" and I can connect you with one.
In my experience, finding an accountant is only half the battle. It's why I built the limited company investment course to take care of everything a company director needs to know before investing the company profits (including how to find a decent accountant).
The LTD company investment course is way more than accounting. Although the right company structure is of paramount importance, the course goes beyond that. Here are some topics that are extremely useful:
Which investment platforms are best for company owners based on their experience/needs and sign-up tips

How to easily track your ongoing investments and tax obligations

Different exit strategies 5-10 years down the line

Property + HMO investing through an LTD

How different assets are taxed when investing through a limited company (not just what the final tax bill is)

How to actually choose a decent accountant for an investment LTD company

An online community of like-minded business owners/investors to discuss ideas and strategies

Which bank accounts to (not) use

Pros and cons of Pensions vs LTD company investing and how to balance between the two to maximise profits as well as tax breaks

Bonus resources such as videos, excel spreadsheets and reading material to succeed in investing
You can register your interest for the course here. I respect everyone's privacy. Your e-mail will not be used for any other purpose.
Final thoughts
I have been investing as a limited company for 5 years now and I'm updating this guide with new findings over time. On one hand, company investment gains are taxed by corporation tax, but at the same time, you invest a larger pot if you don't take dividends out. It really makes a big difference.
An added benefit of investing via a limited company is that the dividends received from stocks & shares and property partner are exempt from corporation tax. That's a big plus.
Investing through a limited company requires a bit more upfront work to set it up. That's because you need to open a new company and a new business account, find an accountant, keep track of the loans etc. Nevertheless, this can be a much more profitable strategy to build your wealth and use it while travelling the world, raising kids, you name it!
Want to read more? Visit The Company Hub, which lists all resources for limited company investing.
What keeps you from investing through a limited company? Or are you not investing at all? Let me know in the comments.
This article was last updated in January 2023.
See also: Can I invest my business cash?