This article explains how to get a Legal Entity Identifier (LEI code) as a UK limited company.
The process is very simple and obtaining a LEI number will cost you around £50 + VAT. It takes approximately one day to get one.
Why get a LEI code?
According to the FCA:
An LEI is a code unique to that legal entity or structure. When an LEI code is allocated to you, the code is included in a global data system. This enables every legal entity or structure that is a party to a relevant financial transaction to be identified in any jurisdiction.
So in other words, it's there to promote transparency in the markets. If you want to invest as a limited company in funds and shares like I do, you will need a LEI code because you are a financial entity.
If in doubt, ask your accountant or let me know if you need an introduction to a good one. My accountant suggested I get a LEI code and it was also required by Interactive Investors when opening a company account.
How to register for a LEI code
I found there are many places where you can apply for a LEI code. In fact, there is a great website (https://lei.codes) where you can see all the options per country sorted by price.
That's amazing thanks Christian Schmidt. I initially thought London Stock Exchange is the place to go but as expected, you'll have to pay the price – £138 to be exact!
Bloomberg, on the other hand, is also well-known but quite cheap. So I chose them.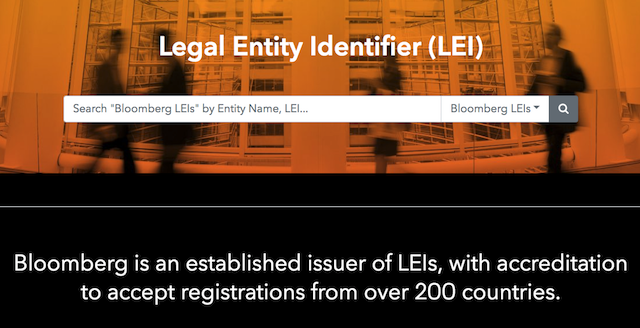 Time needed: 15 minutes.
Here's my step-by-step guide to getting a LEI code for your business.
Create an account on lei.bloomberg.com

You just need to provide your name, address, and basic company information.


Start a new LEI Web Form application

Fill in the company details like the legal name, registered address etc. My Registration Authority is England and Wales, and I have a private limited company but these may be different for you.

The only tricky bit is the "Relationship" section. I contacted Bloomberg, and since I'm a standalone Ltd, I had to put "I do not have a direct parent entity", Exception Reason: "Natural Persons" or "No Known Person". For the "Ultimate Parent" I selected "Same as Direct Parent."

Submit the company certificate of incorporation (PDF)

It's a drag and drop section.

Download and Submit the Self-Authorization or the Third-Party Authorization form

To put it simply, if you have created a Bloomberg account using your company e-mail address (bob@investmentcompany.co.uk) then use the Self-Authorization form. Otherwise, if you use a third-party e-mail like Gmail or iCloud, use the Third party authorization form. Fill in your company details in the "Authorising company" section and your personal details in the "Authorized person" section.

Pay and finish!

The LEI code costed £59 (incl VAT) which is the equivalent of $65 + VAT. I'm not registered for VAT so I selected "private individual" in the payment section. Congratulations, you now have submitted your LEI code request.
All in all, it took me 15 minutes to complete the application once I had all the info. I hope I saved you some time here.
If you decide to go with Bloomberg, they also have a User Guide and an FAQ Section. It explains how to go about the company parent thing: See "What are the options for reporting Level 2 Relationship Data?".
It took one day for my LEI code to be created and I received the invoice receipt in my inbox the next day.
The LEI code looks something like this: "252500JXLFBM5NUSOE54" and it's renewed automatically every year for a lower cost.
Related articles:
Contractor Resources (coming soon)