Here at FoxyMonkey, I have mentioned how to make extra income doing all sorts of things. Money is not everything, but it definitely helps 🙂
So this page summarises everything I know about making legit money on the side. That's how I made £18,000 on top of my salary.
I believe having the option to earn more money is great. Sometimes this can pay off debt, improve your quality of life and bring your financial independence day years closer. More income also means more savings and a higher passive income stream if you invest it.
Note: This is a more active approach to making money. If you instead prefer the lazy one, make sure you read my Best Passive Income Investments list for ideas.
Just pick and choose whatever you like from the options below and let me know the ££ outcome.
Rent your flat on Airbnb
Sharing economy for the win! You can rent your flat on AirBnB and make very good money out of it.
Here in London, my 1-bed flat could make me £1200 for about 15 days.
The first question people ask is "What if the guests ruin my flat?". Airbnb covers your valuables with an insurance for free!
Rent your parking space to other people
That one is my favourite as it's completely hands-off.
All you need is a spare parking space you can transform it into a money-making machine by renting it on JustPark.
After signing up online they let me know by text or email when someone books my space.
Another parking service of the same concept is called YourParkingSpace and has over 15,000 5-star reviews on TrustPilot.
I've set the price slightly cheaper (£5 per day) than the rest and people rent it daily or monthly. So yeah, empty space -> money 🙂
£90 last month, not bad for doing nothing!
Try Matched Betting
I've written about matched betting which is my top side hustle for making £500-600 every month risk-free.
It's not gambling. In a nutshell, you benefit from the bonuses UK bookmakers give and make a little but steady profit every week…
I usually spend 3-4 hours per week doing the offers and it pays off as you can see at the balance image!
All I need is a laptop and OddsMonkey. Definitely give it a go and let me know how it goes.
Collect rent and invest in Property for just £100 (passively)
Property investment always put me off because of the hassle it involves. Research different areas, make bids, submit lots of documents, pay high fees to solicitor, brokers and voila, you have a property. Now find tenants, deal with maintenance and broken boilers, not to mention rent collection problems.
And when you've done all the above, you're locking a large amount of capital in a single location. I decided to follow another route, which is called Property Partner.
Property partner team scout good deals and buy UK properties in bulk. They then ask investors for capital and return the rent (and capital growth from property appreciation) back to investors. The fees are quite reasonable and I love the "passiveness" level of the whole scheme.
You can also read my Property Partner experiment where I invest £50,000 in UK property during the course of 5 years. Property partner is available to non-UK investors too which is rare.
Here's an example property:
Get paid for doing online surveys
I have recently discovered this one as a friend was talking about his wife earning £50 for half-hour surveys in central London. It turns out, you can take part in surveys online too!
The money won't be as great but it can definitely be a nice income boost from the comfort of your couch. Universities and companies are always on the lookout for people behaviour and needs. So they will pay someone to get answers and it will be anonymised.
Prolific.ac is the company I've used and it was pretty straightforward. Here's how it works.
I really liked that Prolific connects academic surveys with people. This means they won't be boring and will usually have questions about society and life which I like. Here's a study by Cardiff University.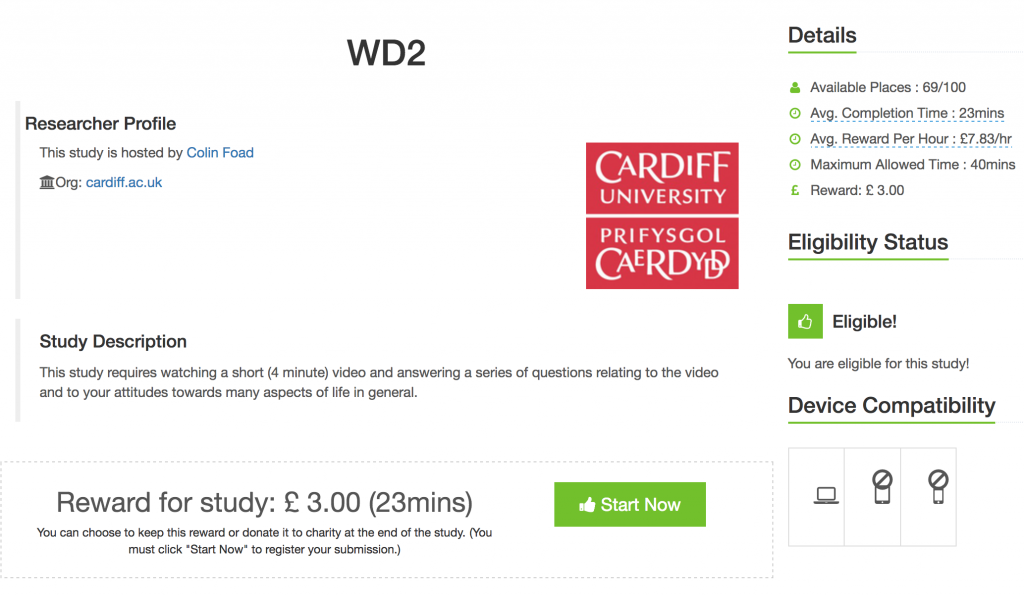 Bonus point: With Prolific you can choose to donate the money to charity instead!
Check out Emma's top 10 Online Survey Websites: The Top 10 Survey Websites
Start a blog
This blog now makes £200 per month, believe it or not! And it's just 7 months old.
Although I'm not blogging for money (that would be a disaster given how many hours I've put in!!) I really enjoy writing about personal finance while earning a side income.
Also, it improves my writing skills and I've met some incredible people offline and online. Seriously, think of something you love. The best time to start blogging was yesterday, the next one is today.
There are so many ways bloggers can make extra income. These include affiliate links, ads, sponsored posts, etc.
Top guide: How to Start a Blog in 5 Steps – A Beginner's guide
Top book: The Million Dollar Blog (<— affiliate link!)
This blog uses SiteGround for hosting which includes WordPress and it's blazingly fast.
Start a business online with Shopify
Starting a business online is incredibly easy. I'm actually building an e-shop for my father's business. He wants to sell kids clothing online as well as offline and Shopify has REALLY helped us.
I didn't write a single line of code and no technical experience is required. So if you have an idea of selling something online (yoga mats, shoes etc) it can become a good way of earning some extra cash.
The Shopify costs are really low – about £30 per month which is a joke if you consider they provide the e-shop design, development, hosting and manage the payments too. There are free themes to choose from or paid ones around $150 which provide support too.
Here's an e-shop example. One can build this in a weekend with Shopify.
People buy the stock from Alibaba express and do what's called "Dropshipping".
"Dropshipping allows new entrepreneurs to build a new online store risk-free. When you sell a product to your customer, the manufacturer then packages and ships the product directly to them on your behalf. You only need to buy the goods as customers order them. This keeps costs low, which makes it an ideal business model for someone starting out."
Short on ideas? Check out the awesome business ideas guide which includes how to dropship, free stock photos, and the starter toolkit to get you started…
Become a freelance mobile developer
Building mobile apps can be a lot of fun, especially when people pay you for it! I've worked on mobile development before and had zero experience as an iOS guy.
There are websites like Upwork or Freelancer that connect people who want to build an app with developers. It's never too late plus you can work from wherever you want.
"But I don't have any experience in building apps!"
You can start by picking any course on Udemy such as this iOS programming one and work as an independent mobile guru.
I think we've already established that you don't need a degree to work as a software developer.
When you've built a few apps you can take simple jobs to build your experience and up your rate. From what I know, people make at least £2000 when doing this full time.
As long as you have a laptop, the world is your oyster.
Sell stuff you don't need for a profit
That's an easy one and usually, people can't be bothered.
I've asked myself: What I'd rather have? This old car/book/phone collecting dust or cash? And I made the decision to sell it. You'll be surprised how many people are willing to buy it.
We recently sold our digital piano which we bought for £250 a few years ago. In 2 days we had a buyer willing to pay £220 for it. Here's what people are selling near me right now:
I find that the best way to do it is to go to Gumtree or eBay and post GOOD photos of the item. Make sure to spend 5 minutes of your time to write a good description. Good photos and description combined matter more than the price. Seriously.
Start selling unused items or you'll become stuffocated!
Become a freelancer marketing guru
It doesn't have to be technical and not everyone likes to code. With so many bloggers and small businesses around, people NEED HELP.
Blogs like this one require a lot of work to grow. I'm actually considering hiring a Virtual Assistant as the workload increases and my time is limited. What to look out for? Someone that can find great images, know how to promote on Facebook, Pinterest, Google and talk with the media.
Here are some great resources to help someone start:
The internet is still in its infancy which means we need more and more people every day.
Make money when shopping online with cashback websites
You search what you want to buy online on TopCashback or Quidco. If the product is available, you get money back for free. Simple as that.
Example: I want to buy a new Internet broadband at home. I go on TopCashback search for internet broadband and click on the offer which redirects me to TalkTalk's website. I buy normally on TalkTalk's website and get £100 cashback 🙂
I find that TopCashback is slightly better than Quidco. By the way, if you sign up using these links we get £5 for free and you can also invite your own friends. Win-win!
Keep your cash in high-interest places
You can earn interest on your cash by keeping it in the right places. For example, savings accounts can pay a good interest rate and so do money market funds.
Check out the ultimate guide on the best places to keep cash in the UK in 2023.
Cash is exciting again!
Invest the money you don't use
That's a whole new discussion and many people are afraid of investing. I have been writing about investing as it brings me money while I sleep.
Depending on your taste, you fall somewhere between very conservative (savings account, 0.1% interest) and very risky (100% Tesla stocks).
One idea is to lend money to borrowers for a profit. Read my Zopa review for investors or head over to Ratesetter. These are two very good peer-to-peer lending websites which support ISA (tax-free earnings).
In a nutshell, you choose the loan terms, make a bank transfer to them and they manage the money distribution to hundreds of borrowers. Some of them will not pay back, but on average you will make between 6-7% return. £5,000 in a year made me £350 richer last year. Not bad for hands-off passive income.
Another option is to invest in low-cost index funds such as the Vanguard Lifestrategy Fund or the S&P 500 ETF. Essentially, you buy a little bit of every business in the world and reap their profits. The more stocks (businesses) than bonds you own the riskier the ride but the higher the reward. If you feel more conservative and want to sleep well at night, go for more bonds.
If you want to buy companies directly like Snapchat and Tesla, that is a riskier game. Usually, people receive below average returns because they don't have the knowledge of whether the stock price is good or bad. If you, however, decide to go on, there is an app coming to the UK which is called Freetrade that lets you buy and sell shares for free!
Currently, RateSetter runs a promotion where if you invest £1,000 using my link we both earn a £100 bonus!
Buy low on Amazon, sell high on eBay
A guy at work is a Game of Thrones fan (who isn't?) and does the following: Let's call him Russel. Russel buys miniature models from Amazon and sells them on eBay for a higher price.
How does he know when to buy? There is a service called CamelCamelCamel with which you can monitor the Amazon prices. You can also see the average historical price for a product.
So, the next logical thing is to set up an alert. It will notify you if the price of an item has dropped significantly which only lasts for 1-2 days.
Russel knows that the average price for "The Hound" is £22 on Amazon but eBay currently sells it for £24.95. Almost same price.
This item, however, dropped to £11 in July which is a bargain. Russel bought as many units as he could in July and put them up for sale on eBay. That's £24.95 – £11 = £13.95 profit right there for each unit sold!
You can replicate this strategy with different items, as long as there is demand. I find that classical pieces  (e.g. Monopoly) will always maintain their demand. Just start small and test it first with fewer units.
Make extra income by switching your gas & electricity plan
Ok, the obvious one: If you sign up to Octopus.energy using this link you'll get a £50 cashback.
Although £50 pounds is £50 pounds, that's nothing compared to the amount of savings I've made with this company compared to the big 6 (e.ON, EDF, British Gas etc).
You don't have to take my word for it. Just head over to Octopus.energy Trustpilot reviews and see the 9.7 score for yourself.
The switch was pretty easy, I had to complete a form online and both my gas and electricity is now 50% green and cheaper. I pay almost half-price (£50) which saved us about £700. That pays for 3 return tickets to Greece, or 2 months of grocery shopping 🙂
Blog post: How to shop for gas & electricity in 2017
Buy or Sell Online Businesses
There are websites like the Empire Flippers and Flippa where you can simply buy online websites that make money already.
Think of an e-shop selling watches or a funny video website making money from ads. You don't need to keep inventory, just need to promote the business and handle customer service.
I really like the idea of buying something that already sells because I don't need to do the hard work to START making money.
Amazon FBA, Shopify and other e-commerce stores are the best-selling ones but there's room for software-as-a-service (Saas) websites as well.
I want to get involved in some sort of online business pretty soon. I will write a full article when this happens. Also given the internet is on the rise and more and more people shop online there's always room for higher passive income!
Disclosure: There are affiliate links in this post but all of the products I share I highly recommend. I will never share something that I haven't used or known well.