This is a guide on how to make money using online casino offers. These can be blackjack, slots, roulette and anything with a bonus really.
Making money by playing online casino games is not risk-free like in matched betting. But it's certainly possible if you know where to look.
What I mean by not risk-free? That on some offers you will actually lose money. On other offers, you will win money. But in total, you will be winning more money than losing which is why it's so profitable.
We are not gambling away and hope that luck is on our side here. We focus on casino offers with a positive expected value. Luck is actually, irrelevant most of the time. Which is why it's extremely important to understand the concept of expected value I will be explaining below.
But first things first.
How much you can earn from casino offers
The answer is simple: It depends on how much time you want to spend doing offers. In my experience, I can make anywhere between £800 – £1000 per month if I spend 3 hours per day.
If I make £5 per offer, and complete 100 offers per week, that's £2,000 a month. There are offers where it takes more time to wager the required amount and others you can complete in 5-10 minutes for a fiver.
The people who make thousands per month are those who do it full time, say 8 hours a week like my friend Joe who makes £2000 per month full-time matched betting.
After some time you will realise that your profits is the sum of the expected value of all the offers you decide to do.
Total Profit = Sum (EV_Offer_1 + EV_Offer_2 +…)
So learning about expected value is key to understanding why you can make money from casino offers. You will also understand why casinos are very profitable businesses 😉
What is Expected Value in casino
To better understand the concept of expected value, let's assume you and I place a bet. We roll a dice and for each time the number lands 1,2,3 or 4 you pay me £1. On number 5 or 6 I pay you £1.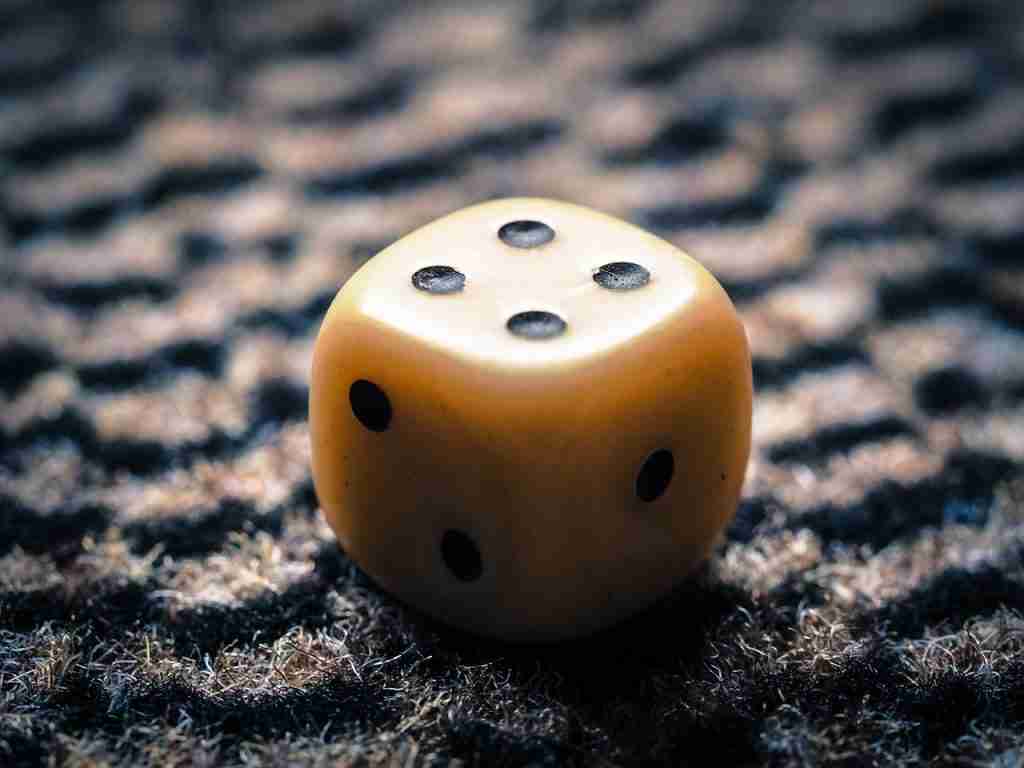 You can see the game is already rigged: I will probably win more times than you do if we play long enough. My expected value is positive, yours is negative! The more we play the game the worse for your pocket.
The math says that if we roll a large number of times, I will win 4 out of 6 times (66%). This leaves you with only 2 wins out of 6 rolls (33%). Now if we play this game just once or twice, who knows, anything is possible. It may be a tie. But if we play it 1000 times, I'm pretty sure you wouldn't like the outcome! In math terms, this luck factor is called variance.
Simply put, the Expected Value of an offer is the amount you will make if you play this offer many times. Although we don't plat the same offer many times, we do play other offers all of which have a +EV. That's pretty much the same thing.
The more offers you do, the closer the profits to the expected value of the offers. In other words, "luck" is only relevant in the beginning. In the long term, it's all about expected value.
How to find profitable casino offers
You always find casino offers on the promotions page of your bookmaker. Then bookies also send offers over email. However, the fastest and most profitable way to find casino offers is to use OddsMonkey.
OddsMonkey offers a Casino Hub page where I can find all daily casino offers along with their expected value.
This saves a huge amount of time as you can all offers in one place every day. I'd rather spend my time doing the actual offers than doing maths.
Each offer comes with its own thread in the forum where you can discuss the details or just show off your profits 😄 Forum members also post more offers they find in this forum thread: Casino Offers No chat
OddsMonkey offers a free trial and costs £17.99 per month. I pay £150 annually which means I save 3 months.
I will now go through the 3 most popular online casino offers – Slots, Blackjack and Roulette.
Slots
Slots offers are by far the most common. Every day, plenty of bookmakers offer these 2 types of offers:
Bet £20 on Slot X, Get 25 Free Spins
Bet £20 get a £10 bonus
Slots are also the easiest casino offers to do because you need zero game knowledge. You just spin, it's as simple as that. Let's go through a step-by-step example:
We need to wager £30 and get £5 as a bonus. This offer has an expected value of £3.70 which is good value for the few minutes I will spend on it. I usually click on the offer to view the strategy OddsMonkey recommends:
Sounds easy. First I will need to visit the paddy power website and "Opt in" by entering the code PARADISE. Then I will need to wager £30 on the Tiki slot and wait for the £5 bonus to land.
Then I need to wager the bonus 5 times (£5×5=£25) until the winnings are mine. This is very typical. Most slot offers follow the exact same pattern:
Opt-in
Play some real money
Wager the bonus X times (on any casino game).
Tiki slot was not very generous to me. I lost £9 on the slot but made £15.50 wagering the £5 bonus on Blackjack. Overall profit: £6.50 for about 10 minutes of my time. In other words, that's £39 per hour or £1,560 per week if you zoom out! Not bad at all.
A few tips: It's important to always change the stakes to the minimum to reduce the chance of going bust. This means that with £0.01 stakes per line I'm going to wager £0.25 per spin. It's sometimes set already to a high number, like £2.00 per spin, which is both very dangerous and sneaky.
The other tip is you can set it to autoplay and go do something else until it's finished.
You may be wondering, why OddsMonkey recommends Blackjack for the bonus wagering. That's because Blackjack offers an amazing return to player (99.7%). This means the game is designed to make you lose 0.03p for every £100 you play. A great way to wager our £5 bonus 5 times before cashing in.
Generally, if the casino offer doesn't explicitly tell you which slot to play, go for the slots with high RTPs. I have a list of high RTP slots in the FAQ below.
And there you have it. The more offers you do the closer to the true expected value you will get. I made more than the £3.70 EV there, so I know I will have to pay the difference back to Lady Luck at some point.
That's fine, still beating the casinos 🙂
If you want to learn more about slots, I have previously written an extensive guide on how to make money from slots.
Blackjack Offers
Blackjack is my favourite casino game for offers. Not only I find it fun to play, but it's the game where the player loses the minimum amount against the casino.
Depending on the bookmaker, different Blackjack games have different rules and therefore different "return to player" rate. E.g. number of times you can split, payout when you hit 21, when you can double etc. But overall, the chance of wagering is close to 100% which makes Blackjack great for wagering bonuses.
That said, Blackjack also comes with its own offers and we can profit from that. For example, Wager "£50 on live blackjack, get £10 bonus". The process is very similar to the slot offers.
Just bear in mind, you need to play the game according to the Basic Strategy. This means there's an optimal way to Hit, Stop or Double depending on the cards you have. So don't just stand on 15 versus the Dealer's 8! Follow the table and the Blackjack guide to achieve this 99.7% RTP.
Roulette
Roulette is a game where the RTP is fixed, like slots. You cannot influence the game like in Blackjack and the RTP is usually around 97.3%. This means the house keeps £2.70 for every £100 you stake. In the US, the odds are even worse because they have the double zero! The RTP across the pond is 94.74%.
But Roulette offers are still profitable because they come with a bonus. Similar to how Blackjack works, we get offers such as "Bet £50 get £10 bonus". You need to wager the bonus X times depending on the offer.
To avoid big variance, stick to Red/Black and just pick one colour all the time. This will hopefully give you a smoother ride.
Because Roulette is a game with poor odds, we try to wager the bonus on Blackjack where possible. And that's about everything you need to know about roulette offers 🙂
General Casino Offers Tips
ONLY go for positive expected value offers
Play the highest RTP slots
Do not gamble after you finished a casino offer. After you have wagered the bonus, your expected value turns negative. Otherwise, casinos wouldn't make any money.
Do not bet more than 1-5% of your bankroll.
DO NOT CHASE LOSSES OR WINNINGS. If you have finished wagering, stop playing regardless of whether you're up or down
Start small, until you can be confident you can take losses and you don't gamble
Multiple devices and autoplay can save you time and boost your profits
It's very easy to fall into the trap of a few more spins or a few more BJ hands after a losing streak that's supposed to make you money. Try to resist. You will just lose more money and waste your time. Trust the EV and move to another offer or just take a break and come back later.
Also what I have found is that the beginner's excitement goes away after a few months. In the beginning, every new offer is a new adventure! It's like all or nothing. But after a few months, it slowly becomes business as usual.
This is because you start realising that over time, the profits depend entirely on the offers you select and how many hours you put in. Profits do not depend on luck over hundreds of iterations.
Otherwise, no one would open an casino, if you know what I mean.
FAQ
How much money do I need to start doing casino offers?
You can start doing casino offers using a bank of as low as £100. I started at £300. The key thing to understand here is that a bigger bank will allow you to withstand bigger losses.

As I've said before, losses are inevitable. You will lose some money from time to time. If you cannot accept that, stick to sports betting and traditional matched betting. But your winnings will make up for the losses and then some because the expected value is positive. Which is why casino offers can be very profitable.

Usually, we don't want to reserve more than 5% of our bankroll on low-risk offers and no more than 1-2% on medium-risk ones.




Having a £100 bank means that you should not be doing a casino offer that has a wagering requirement of £20. A wagering requirement means they want you to stake at least £20 before you can take your profits. 

This limits your options but more importantly makes sure that you don't go BUST. Going bust is the worst-case scenario and we want to avoid it as much as possible. So either start with a higher bank or just do offers with low risk and low requirements.
Can I lose money on online casino offers?
Yes, you can lose money in casino offers and you should be prepared for that. Try to understand the concept of expected value I explain above. In the short-term, you may lose some money because luck is not on your side. This is similar to you winning the big bucks when going to the casino for the first time. Only to go back a few times later and give all your profits back. Sounds familiar?

Only that this time, we are on the casino side 😉

If you want to play it safe, stick to risk-free or low-risk offers and bet small.
What are some good slots with high RTP?

Slots with high RTP and low variance, good for staking and for 1x wagering requirements:
– Frankie Dettori
– Bloodsuckers
– Golden Tour
– Jimi Hendrix

Medium-high variance, good for high wagering requirements (30x):
– Guns n Roses
– Gonzo
– Koi Princess
– Ted
How much time does it take to make money on online casino offers?
People spend a few hours every couple of days. The more time you spend the higher your profits and the closer to the expected value of your offers you get.

A few hours per day would return anything between £500-£1000 per month. The profit you make depends on your skills, offer availability, your bankroll and the amount of risk you want to take.
Useful Links
That was a LONG post. If you made it this far, I have no doubts you have the discipline to make some money in casino offers. See you on the other side 😉